We are an independent 501(c)3 non-profit organization
that, through the support of the community, raises money to better the education for students in Lake Oswego schools. Our mission is to provide more teachers, classes, and experiences for all students in the Lake Oswego School District. All funds raised are distributed equitably across all schools in the Lake Oswego School district for the benefit of each and every student.
We started way back in 1986
by a parent of two students enrolled in Lake Oswego schools who had a passion for education and our community. Joel Kuntz worked with parents, teachers, administrators and elected board members to create a foundation for our community to ensure greater learning opportunities for students. More than 36 years later the mission of the Foundation remains, and Joel continues to contribute.
How Measure 5 Changed the Landscape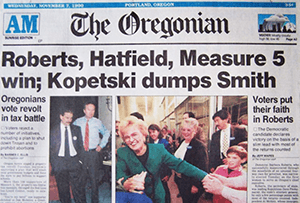 In 1990, Oregon voters passed Measure 5, which limited property tax revenue and transferred the responsibility for funding schools from local governments to the state, resulting in funding cuts to districts like Lake Oswego. This change prompted the Foundation board to consider how its funds could better meet the District's needs. To help guide the Foundation, in 1993, the District hired former Lake Oswego City Councilor Mary Puskas to serve as Foundation Director. Two years later, the Foundation board changed its mission: from then on, all funds were dedicated to hiring teachers.
How Your Gifts Impact Students' Lives